If you have a sloping backyard, decking is a sure-fire way to maximise usage of, and add value to, your property.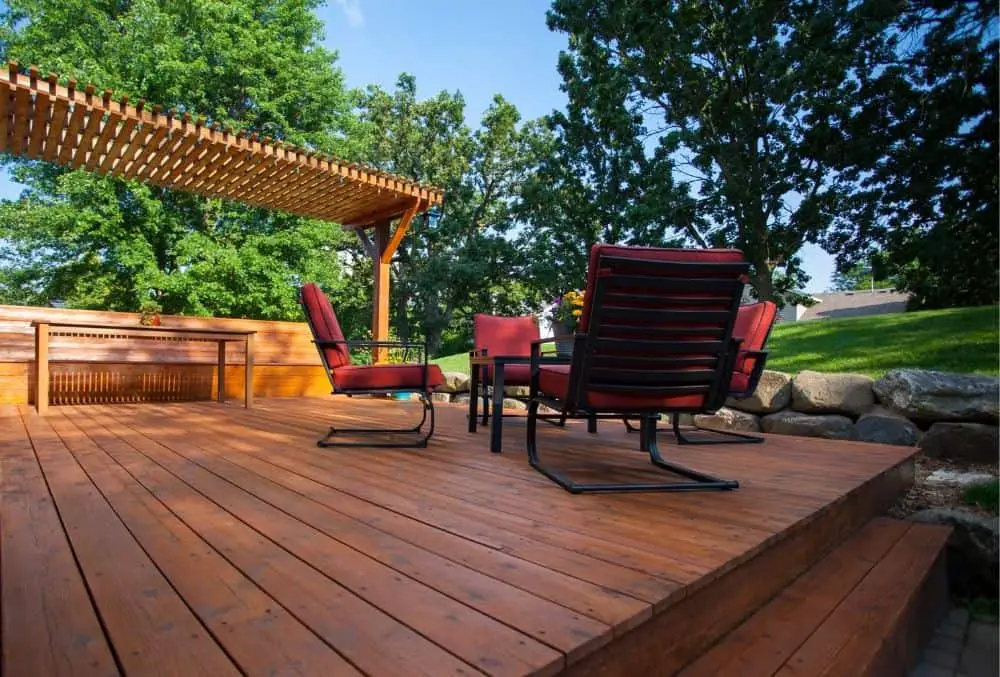 Sloping Backyard Issues
Water runoff and erosion could damage your sloping backyard and any decking you have installed on it. Three essential things to do:
Plants that quickly establish deep, fast-branching root systems.
Terraces of wood or concrete to assist erosion control plants.
Central drainage system. Planter boxes for divisions of drainage. Water-absorbing gravel or concrete.
For detailed instructions on building a deck on a slope.
Deck Choices
Floating deck: can be built virtually anywhere and built onto.
Elevated decking: uses well-designed stairs and railings, especially useful on higher slopes. Ensure safety and structural integrity. Follow design guidelines. Planning permission may be necessary.
Multi-level decking: multiple levels. Extensive planning. Ensure safety. Follow local guidelines and requirements.
Tiered decking: uses multiple steps to frame the landscape, works well with gentler slopes. Section the deck functionally. Add other structures.
Deck Materials
Timber decking is fine for elevated decking. Ensure the posts are high-quality. Ground contact is inevitable with multi-level and tiered decking; choose materials resistant to moisture, mould, mildew, and insects.
Synthetic materials, like PVC decking boards; durable, resistant.
Composite decking boards; high resistance to weather and warping, appear similar to wood.
Awesome Ideas For Sloping Backyard Decking
You can have a designer theme or be eclectic. A deck is a space. Use it to fulfil your outdoor living aspirations.
1. Decking Boards
Place boards to accentuate design. Vertical lines elongate and horizontal encourage looking across. See how to manage a sloping garden with decking.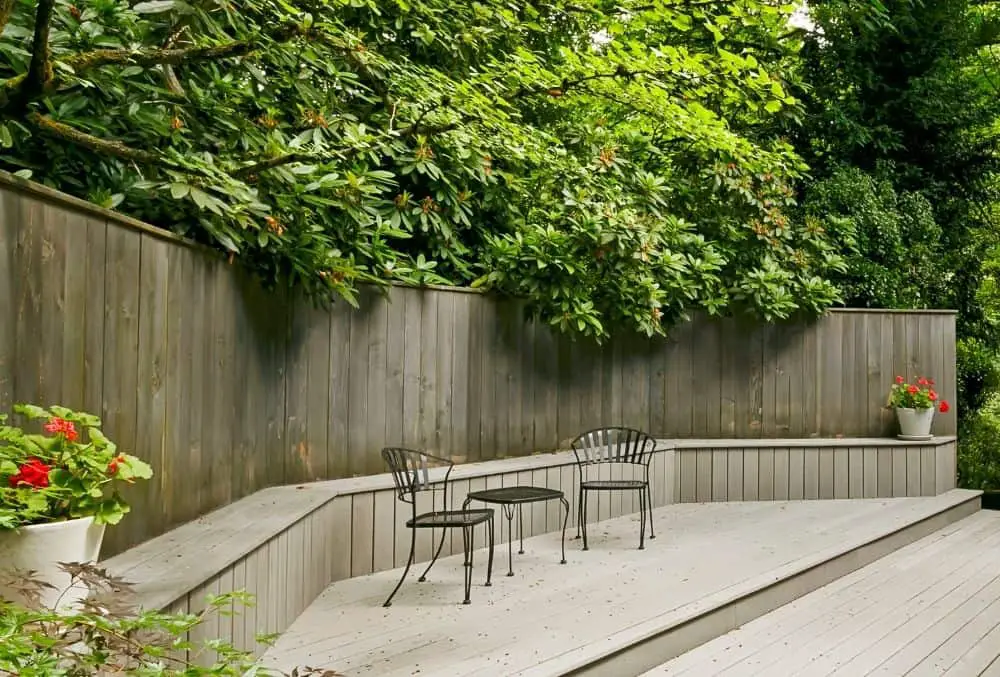 2. Decks And Rails
Wooden rails, especially if made of hardwood, are eye-catching. Drape the rails in fairy lights or encourage trailing plants to grow along the rails.
3. Color
Chose decking paint or decking stain for effect.
4. Woodwork
Carve wood structures to complement the deck or do some carpentry wizardry on the railings. Alternatively, purchase wooden ornaments. Ensure the wood is protected.
5. Stone Elements
If you have multi-level or tiered decking, add stones around the decking. If you have elevated decking, place stones for ornamental effect.
6. Gardens
Place tiered plant boxes along the steps of decking. Create sections of gardens by planting different varieties of plants at each level or tier. Use palms and ferns to create your own little oasis. Flowering plants in containers and planters are always admired.
Try vertical planting or decorating with greenery all around. Complement any surrounding grass or trees with plants on a table.
7. Seating
Built-in seating around a focal point is great. Wooden, rattan and wicker seats, deckchairs, and loungers can all be used. A box-type design for polished wood can be repurposed into wooden benches.
8. Viewing Deck
Why not create a feature below an elevated deck. Cut a viewing hole in the deck above. Cover the hole with a strong Perspex sheet, cut to size and installed by a professional?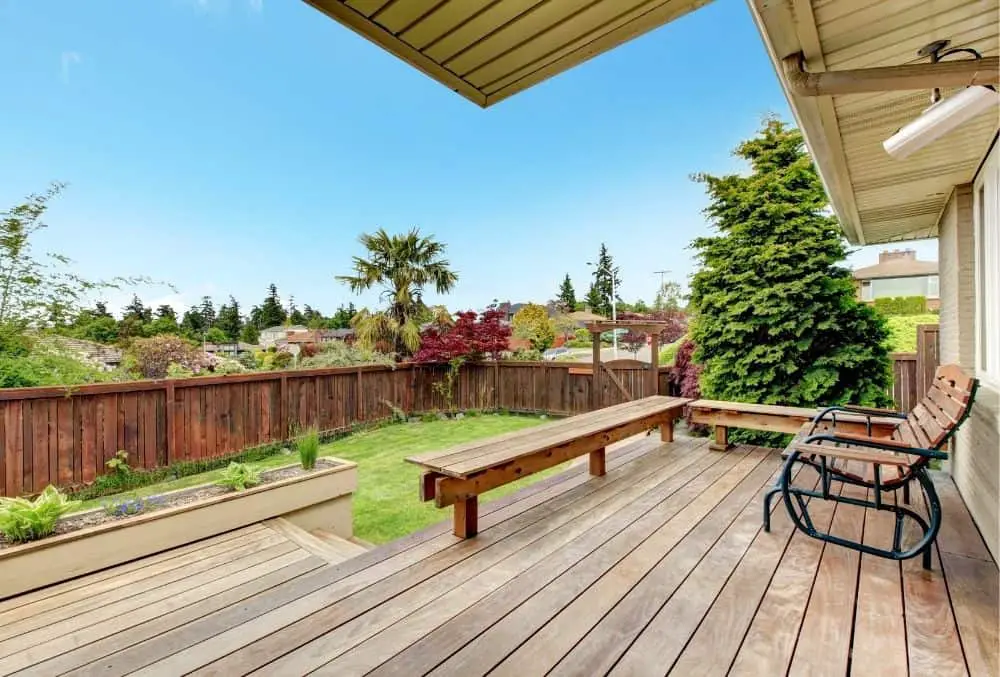 9. Lighting
Turn your deck into a place of night time mystery and allure with clever use of lanterns, hanging lights, spotlights, integrated lighting and solar lighting. Lanterns teamed with candles create atmosphere.
Incorporate solar garden lights in planters. Illuminate from the bottom up, by displaying solar pebble lights around the edge of your deck. Solar powered festoon lights draped from tree to tree can create a glowing ceiling, if you have the trees to do it.
10. Fire Pit
A sunken fire pit in the decking is a great idea. Get circular seating around it and soak in the warmth. See outdoor fireplace ideas
11. Water Features
Having a water feature in the backyard serves as a focal point; fountains, pools or flowing water. A decorated and water-filled butler sink, or watering cans placed to create a flow of water, are cheap options. See Demotivateur, Eat Anchor Hitch, Bob Vila and Pinterest.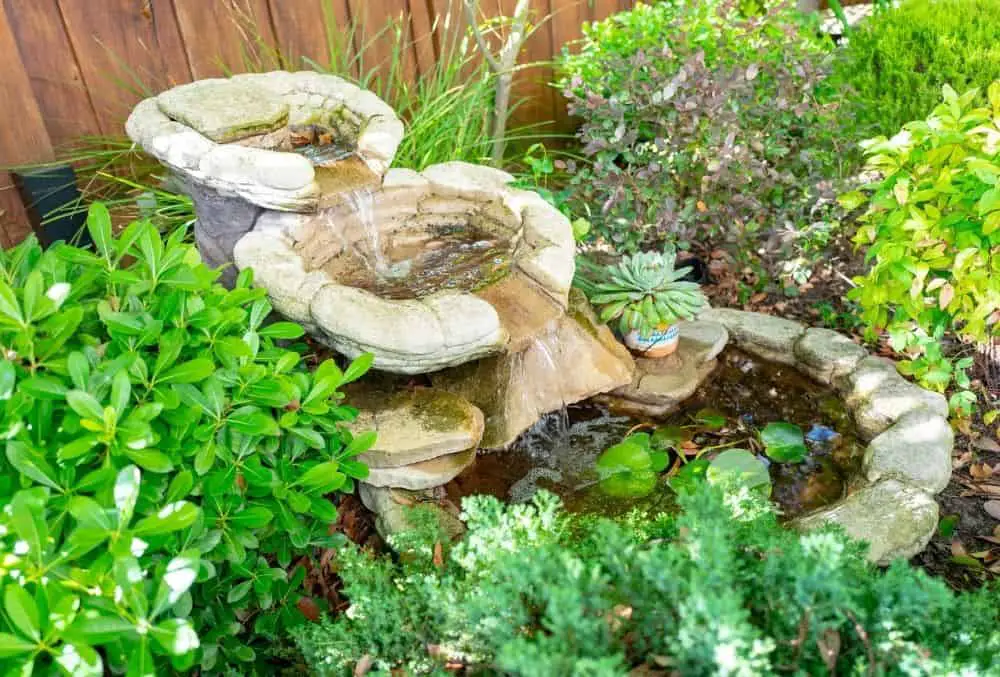 12. Slide
Have a slide installed from the deck down the sloping garden. What a great way to get down a sloping backyard from an elevated deck!
13. Extra-Wide Steps
Safer, and provide extra platforms for décor.
14. Extended Living Area
By installing decking on the same level as the house, it takes your living space outside. Place outside furniture to complement indoor furniture, so there's a seamless flow. Use things like cushions to continue a theme. See indoor outdoor living space.
15. Extended Dining Area
Decks are great for alfresco dining. Purchase a bistro set for some pizazz.
16. Play Area
The perfect spot for your child's playhouse, if not too elevated. Attend to safety.
17. An Outdoor Kitchen
Choose items that are weather resistant. Add a barbecue set. Keep safety in mind.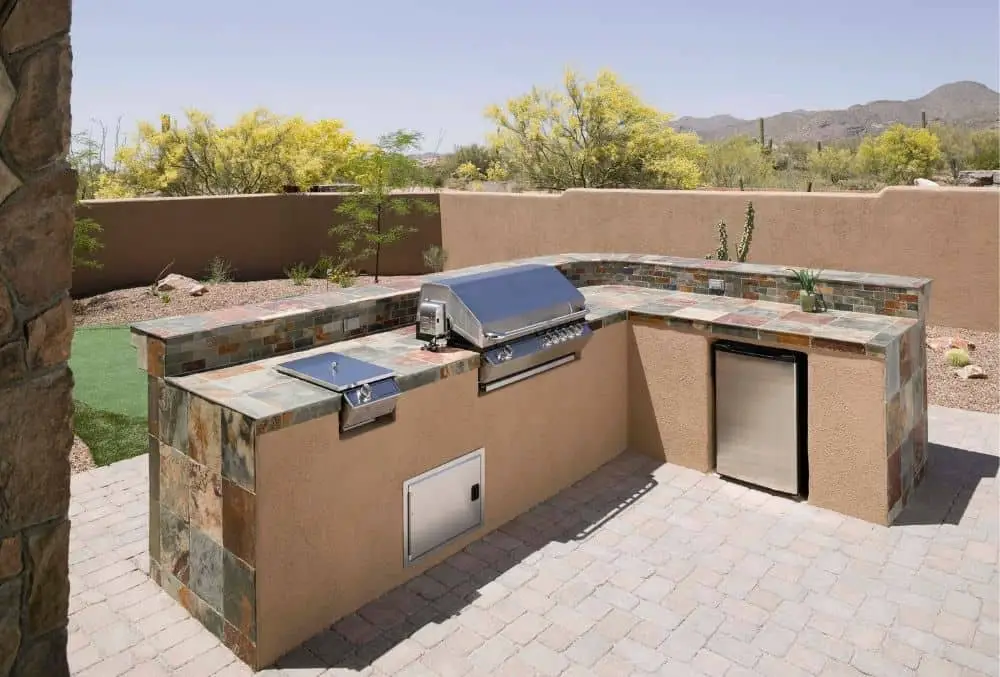 18. Wall
Add a wall for privacy or as a design feature. Use decking boards to create shelves up the wall for storage and for décor ideas.
19. Privacy Screen
Great if you want time to yourself, especially if you are overlooked by neighbours. Use ornamental screens to add panache. See Handmade Haven for a tutorial.
20. Outdoor Cinema
Use the wall of the house, or a deck wall, or even a neutral screen, to create an outdoor cinema.
21. Hammock Zone
If you have trees suitably positioned, or can make use of good railings, why not hang hammocks on your deck?
22. Pergola
A pergola provides a shady space. Hang twinkling lights for a magical haven at night. See Jen Woodhouse for a tutorial.
23. Gazebo
A gazebo provides a snug space. With the addition of a small desk, it becomes a study.
24. A Pagoda
Build a pagoda on your decking for a treehouse effect.
25. Outdoor Spa
Why not have a small plunge pool, or an integrated hot tub, incorporated into the deck?
Finally…
A sloping garden can be transformed with decking. The decking can be turned into functional outdoor space, brimming with potential. Set creative ideas free! Let your deck speak for your home and your sloping backyard!