Koi ponds can help transform even the dullest spaces into tranquil little havens. These beautiful water features are wonderfully relaxing to sit back and gaze upon. And, best of all, you can have one in your own backyard.
The gentle sound of trickling water and fish swimming around a koi pond is enough to wash many stresses and anxieties away. After a long day's work, there is no better way to relax than sitting next to your koi pond and falling into a state of bliss.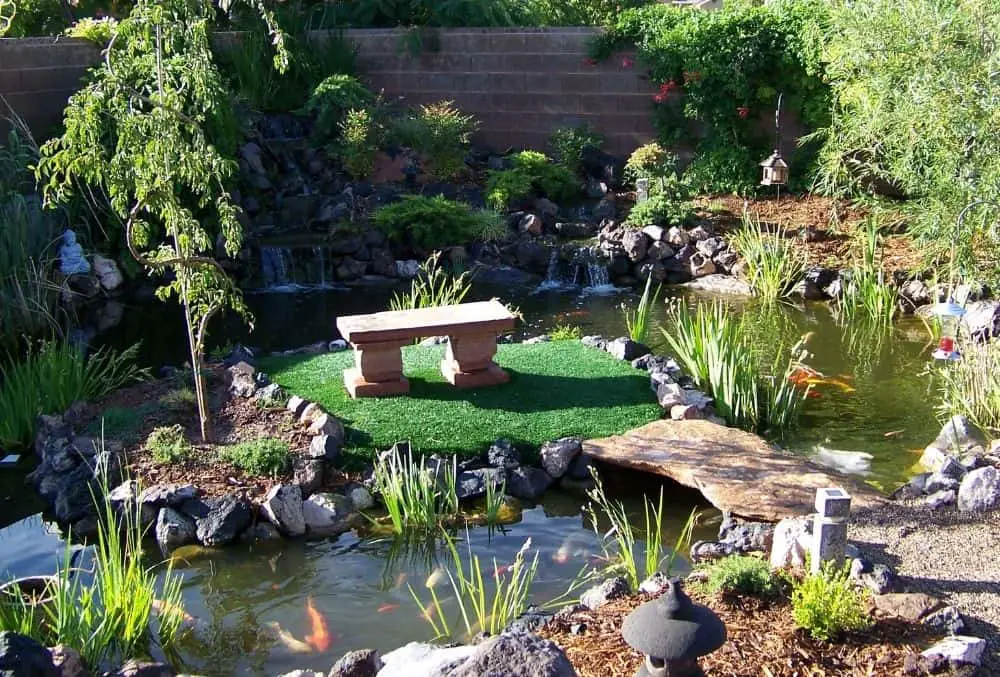 As well as a decorative pond, the koi under the water can also be classed as decorative pets. These ornamental fish from Japan come in a wide variety of patterns and colors such as yellow, silver, orange, blue, and white. Just watching these fish glide serenely through the water is a sight to behold.
If you're thinking of redecorating an existing koi pond or wanting to build a brand new feature, then you probably need a little dash of inspiration. Well, you're in the right place as we are going to show you some of our favorite backyard koi pond ideas today.
Get ready to add some tranquility and calm to your outdoor space for you to relax next to from now on.
Koi Fish Pond Ideas
1. Waterfalls
Adding a waterfall to your backyard koi pond can make a world of difference. It simply adds an even more tranquil feel transforming your backyard into an oasis of calm. A small waterfall provides a gentle trickle of water that will add to the relaxing atmosphere.
It will also make the whole pond more interesting to look at for guests and visitors to your home. As well as this, the waterfall can naturally aerate the pond water helping the koi live a more healthy and happy life.
2. Minimalist
If you do not want to go over the top with your koi pond design, then a minimalist approach is probably your best option. An example of a minimalist koi pond would have cement walls that form a rectangular shape into the ground.
After all, koi only need around a depth of one foot for their habitats. And, we doubt they'd appreciate decorations above the water.
When fish are added to a garden pond, stronger filtration is required so you will also need to include a filtration system to help filter out waste from the water. If you're building a koi pond, we recommend starting with a minimalistic design and starting with only a few koi fish.
Koi fish are very social and prefer to swim around in schools and, when fully grown, they can reach 3 feet long. Therefore, you should not add too many into a small pond.
3. Shaded Koi Pond
You want your koi pond to stay relatively cool. This will make it a safer and more comfortable environment for your koi fish below the surface of the water. You can ensure the water maintains a cool temperature by planting vegetation around your koi pond.
If you live in a warm climate, this is very important as this additional shade can provide a cooler refuge for your fish. Moreover, cooler water temperatures also help increase the dissolved oxygen within the pond. This results in happier and healthier fish all year round.
4. Recycled Bathtub
Bathtubs are not only for people to bathe in. Old claw-foot models can be easily converted into stylish container garden ponds. Seeing a bathtub used as a koi pond in someone's backyard has to be one of the most awesome sights.
Although a bathtub is the last thing you expect to see in a backyard, it somehow works so well!
You can head to a local junk shop to search for cheap old bathtubs. Or you can ask around local building sites and renovations because there's usually someone getting rid of an old bathtub.
All you need is an old bathtub, a recirculating pond pump, and filter, plugs to close up drains/other holes, an outdoor GFCI electrical outlet, aquatic plants, and some bricks or other materials to hold the plants at the right level.
Once the bathtub is set up, you'd be surprised how great it looks and how much your koi fish will love it!
5. Sitting Area
If you have quite a spacious backyard, you could build a sitting area around your koi pond. Just imagine sitting back with a glass of something, listening to the gentle tricklings of the pond's water on a summer's evening. Your own little nirvana!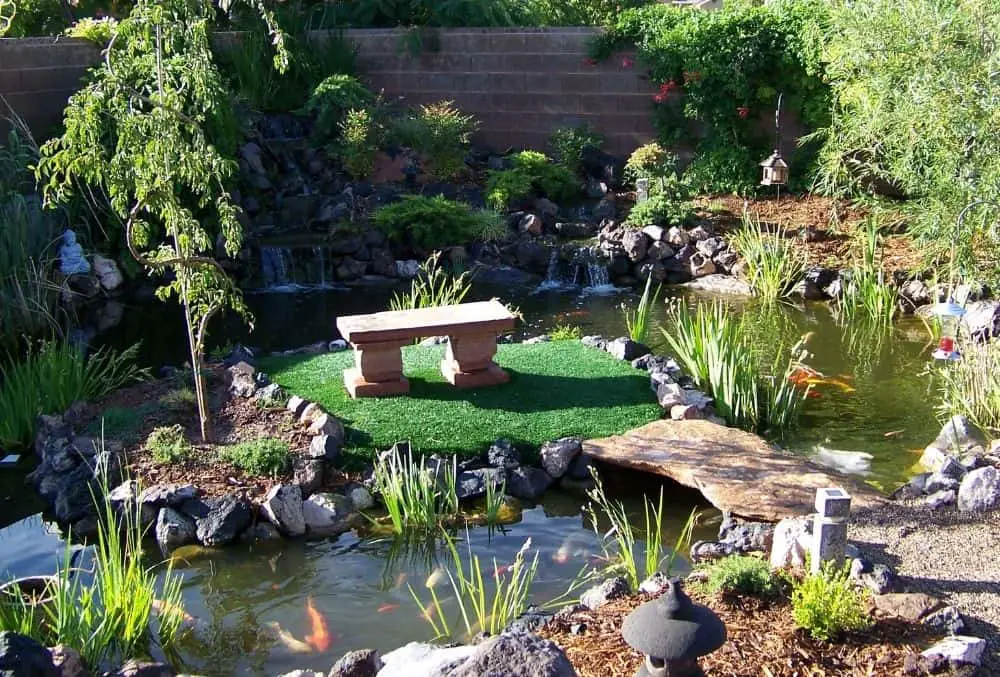 You can also add a fire pit to keep you warm on colder evenings. Just add a few chairs and your relaxing escape is ready for you.
Having a sitting area means you can design it in any way you choose. And, you can move furniture around now and again to keep things fresh. You could even add a bbq area and a table for getting together with family and friends. Don't be surprised if people start inviting themselves though!
6. Decorative Rocks
It's amazing what a few simple decorative ornaments can do to a koi pond. Adding decorative rocks can help give a koi pond a more natural look. This is especially true if you primarily went for the minimalistic look.
Concrete can stand out like a sore thumb in an otherwise green area so adding some natural-looking ornaments can really transform your setting.
It may sound strange but rocks can look beautiful! And, never more so than when they are surrounding a koi garden pond. Furthermore, they can help add a more complex habitat for your koi fish to enjoy. Also, rocks can be useful in the habitats of other animals such as turtles and insects.
In Summary
When building or updating a koi pond in your backyard, there are many ways you can design and decorate it. Not only can some of the ideas above make your backyard look more inviting and beautiful, but they can help your koi live happier and healthier lives.
Be as artistic as you want. It's your backyard but do not add anything that could potentially harm the koi fish and other animals that depend on the pond for life.