If you're looking to redesign your backyard so that you breathe new life into it with a fresh look you love, why not look into having a gazebo? They can be a very useful item and design choice within your backyard, as they can fulfill many different uses.
But also, if they match the vibe and aesthetic of your backyard as a whole, they can look absolutely amazing!
There is a misconception that gazebos look cheap and tacky, but in reality, gazebos come in all sorts of styles and designs and can be made out of all sorts of materials.
Some gazebos can look incredibly high-class and fancy, and it is all about adapting them to the idea you have in mind!
But what if you struggle to come up with ideas?
We've got you covered!
We're going to go through some of our favorite backyard gazebo ideas that will hopefully inspire you in one way or another.
Does that sound good? Then let's get right into it!
7 Backyard Gazebo Ideas You Will Love
1. Classic Gazebo Design
A classic gazebo is the standard square or rectangular gazebo, made from accessible materials, and available in a range of different sizes.
It's perfect for putting up in your backyard temporarily, like during rainy or cold seasons, or if you have any special occasions coming up, or simply to keep up in your backyard as part of the permanent design!
2. A Sleek And Modern Gazebo
If your backyard has a more modern aesthetic, and everything is sleek and elegant, your gazebo can match this perfectly.
There are plenty of modern-style gazebos that are made from more high-quality materials, in order to give that refined and clean look.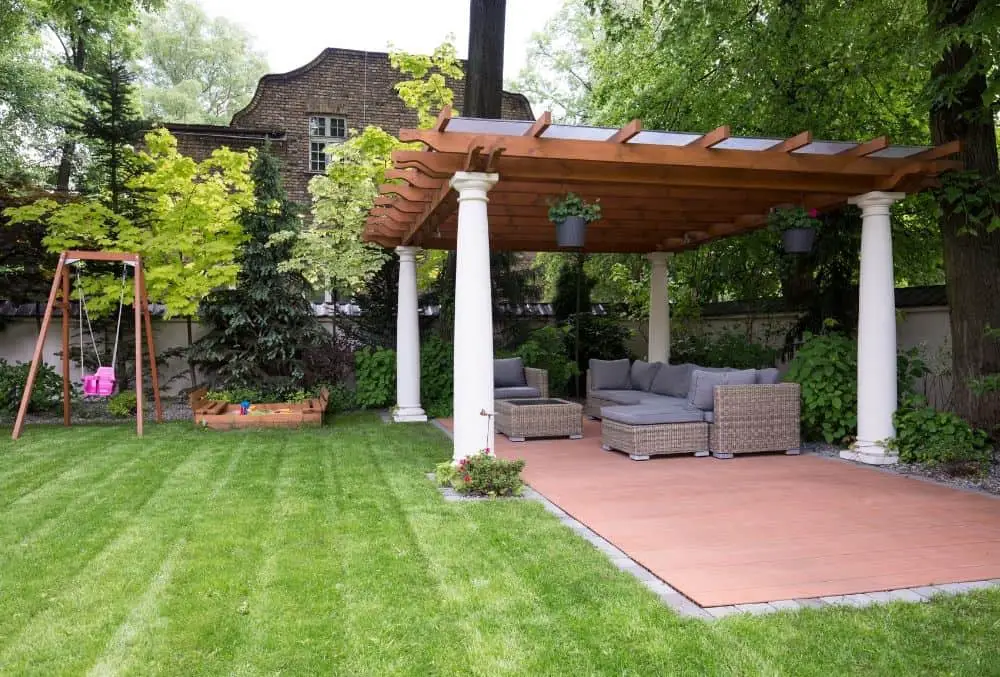 These can often be paired with all sorts of accessories, and they look their best when they are placed on a solid ground floor within your backyard.
Some people prefer some marble stones, for example! You could also elevate the gazebo by placing it on a big podium or stand, and have some steps leading up to it, for an even more impressive end result!
3. Octagon Gazebos
Octagon gazebos can look absolutely amazing, and they have a slightly more magical touch to them than the regular rectangular or square gazebos that are more typically seen.
Octagon gazebos make you think of midnight getaways, private dances, and intimate moments sheltered from the rain. They can be decorated in all sorts of ethereal and beautiful ways, and they can also save some space, as they tend to be a lot smaller!
Due to the octagon size, these can also look amazing when placed as a centerpiece within your backyard, instead of having them to one side or in a corner. So a lot more emphasis is put on the gazebo, making it an even more valuable piece within your setup!
4. Garden Gazebo
When we say garden gazebo, the idea is all about making the gazebo a part of your garden design, full of nature and plants, to give it that organized wild look.
You could place the gazebo on a patch of grass, and fill it with flowers and decorative plants, or you could even have the gazebo become some sort of sheltered greenhouse for your favorite potted plants and flowers!
We would also recommend having some hanging plants and vines that drape around the edges of the gazebo, for that extra nature vibe!
5. Screened Gazebo
Having a gazebo not only looks good but also provides you with shelter. But if you're in the cold season, or it's especially rainy and windy, having an overhead shelter doesn't quite cut it.
This is why you could look into having a screened gazebo, which is a gazebo with screens on the sides (made out of different types of fabrics and designs, depending on what you want), which will provide you with a more enclosed space that is even more sheltered and comfortable.
This would be perfect for creating a protected space that is cozy and warm, but out in your backyard, where you can get some distance and peace.
6. Rustic Wooden Gazebo
If you like traditional aesthetics and want your backyard to look rural and fancy, you could go for a rustic wooden gazebo.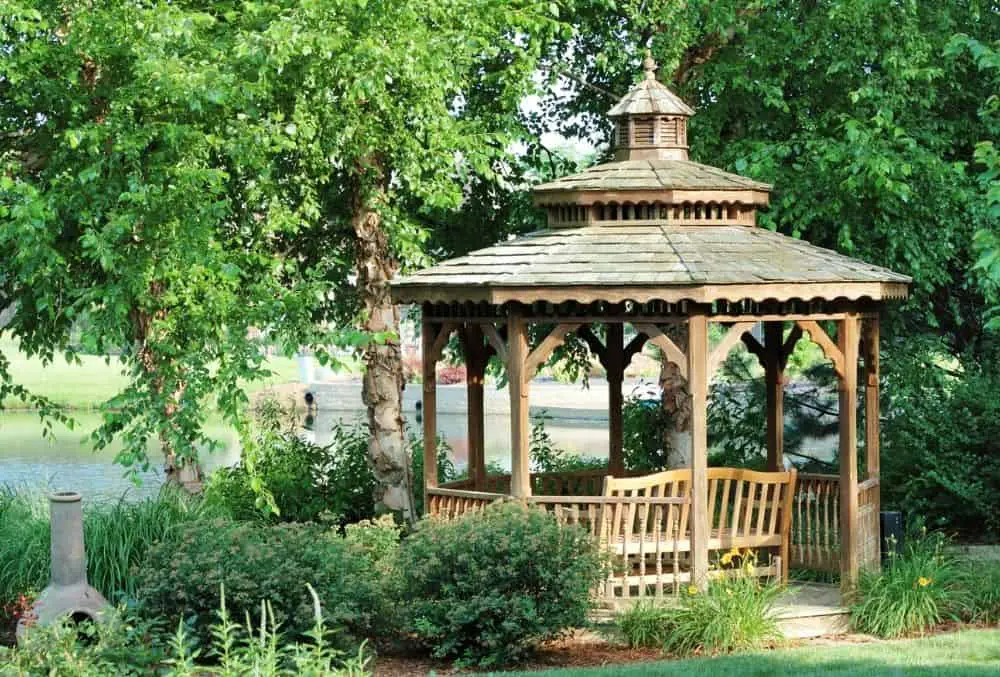 There are plenty of different wooden gazebo designs available, and the more natural feel of it will blend all the better with the natural and wild elements in your backyard, especially if you have a garden too!
7. Small Minimalistic Gazebo
Gazebos don't always have to be big and impressive. Something small and minimalistic, that blends into its environment while providing a small amount of shelter, can be a great option for those with a smaller backyard that want a little corner protected from the rain.
Frequently Asked Questions
Can I Build My Own Gazebo?
You can absolutely build your own gazebo if that is what you want, whether it's from scratch, or by purchasing a gazebo kit that comes with all of the necessary materials and instructions. This way, you can ensure you make the gazebo to your desired specifications and design choices!
However, it might be a lot easier to simply buy a gazebo for your backyard, and there are plenty of varied and accessible options available on the market.
Do I Need A Permit To Have A Gazebo In My backyard?
This depends on the type of gazebo that you are planning on having in your backyard, and on the specific laws and rules within your local region. A normal gazebo, generally speaking, does not require any sort of permit.
However, if you are building a more permanent gazebo, it might be deemed a permanent construction within your backyard, in which case you might have to request legal permission.
Is Having A Gazebo Worth It?
This depends completely on your own personal needs and preferences. If you want a gazebo, then get one! It doesn't always have to be worth it, sometimes you can simply do it for the aesthetic.
That being said, a gazebo can add a lot of value to your backyard, as it provides a small sheltered space, and the design possibilities are endless.
Final Thoughts
We hope that browsing through our gazebo backyard ideas has given you some inspiration or at the very least some guidance on what sort of thing you should look into for your own backyard gazebo.
Just remember that the market is full of varied options, and if you don't find something you love, you can always custom make something perfect for you!