Who doesn't love the sound of water burbling along in a stream? Who doesn't like the sight of sunlight glimmering off of flowing water? The air feels so much fresher around water.
Plants grow profusely, birds stop by to have a drink, aquatic life proliferates, dragonflies and other insects make an appearance. Backyard streams are magnificent additions to the habitats in your garden.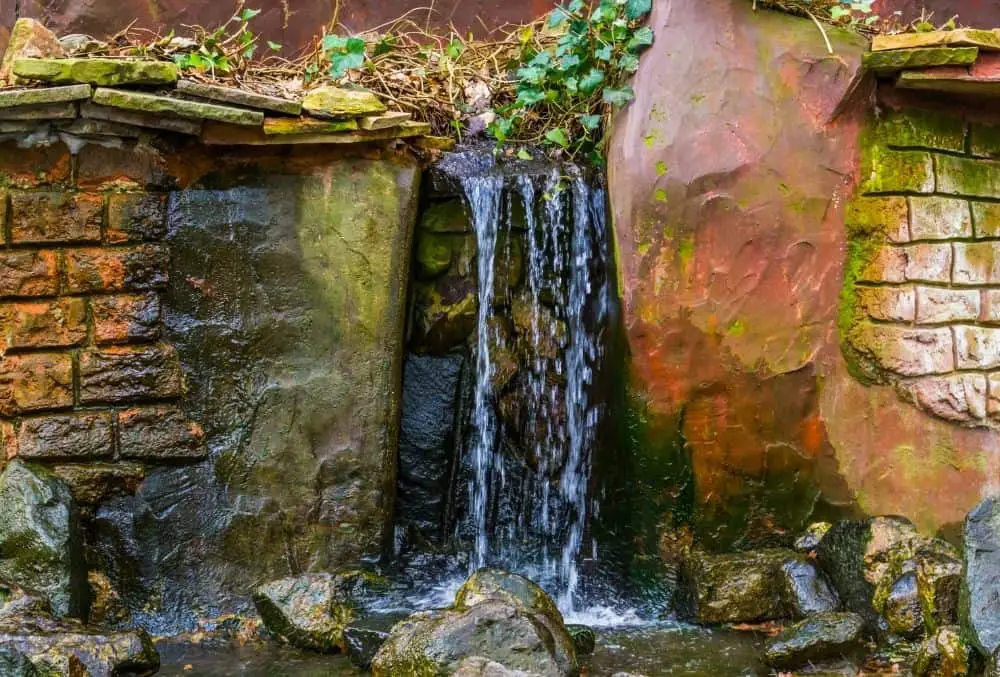 The plants that flourish around water provide oxygen, so even the quality of the air you breathe in your backyard will be fresher. Calm waterfalls and flowing stream can have a profoundly positive effect on mental health and evoke a wonderfully restorative atmosphere.
Turn your backyard into a thriving environmental habitat, improve your mental and physical well-being and make life that bit sweeter by adding a backyard stream. On a more mundane level, backyard streams also increase the value of property.
So, with a vision of a stream beautifying your backyard in mind, let's have a gander at some imaginative ways to create a backyard stream paradise all of your own!
1. Lights
Lights work well with streams. Fairy lights hanging from trees beside a stream, lighting in the stream itself, lamps and lanterns can all enhance the stream's setting; transforming it from great to spectacular.
Lighting creates a more intimate atmosphere. Low-wattage wash lights highlight the surface of the water for a reflective effect. LED lights have a long lifespan. Use lights that won't increase water temperature and have non-toxic elements.
2. A Small Flowing Stream From A Pond
If you want to conserve space, and have a slope in your garden, how about installing a pond at the edge of a slope and then creating a stream that will flow down from the pond. The pond will support the growth of aquatic plants and you can plant flowers alongside your little stream to add color.
Aquatic plants in the pond also serve as air filters. Place pebbles in the stream to help the stream retain its water and prevent the accumulation of debris. It's easy to clean the pebbles and maintain them.
3. Small Bridge
A little bridge over a flowing stream conserves space and is cost effective. There's a reason why so many artists paint bridges over water – there's just something magical about bridges over running water. A bridge of just half a meter in width can make an impact.
Placing rocks at the sides of the stream can turn the bridge into a pathway. Placing lights strategically by the stream, or along the railings of the bridge, will make it a truly enchanting setting at night.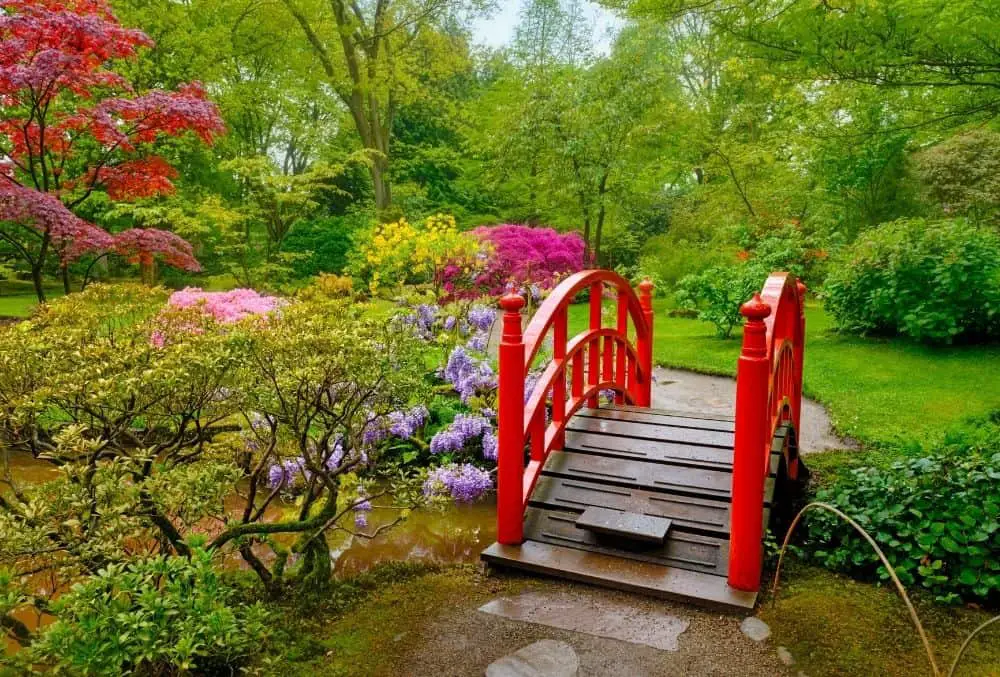 Train vines to grow along the bridge railings, or drape garlands, and you have a fairy tale wonderland in your own backyard! Imagine dragonflies glinting as they fly over the glinting water to rest on a carved bridge handrail.
4. Streamside Dining
A luxurious water-stream dining idea combines nature with modern design and is ideal for larger spaces and budgets. What a glorious way to eat! People pay good money to dine beside water and you can do it every meal. Lighting, a pool, and a small garden would further improve the ambience.
5. A Stream Beside A Fire Pit
If you have a small stream burbling along and a firepit right beside it you have two key elements, fire and water, next to each other. Keep warm by the firepit when it's cold, dip your toes in the water when it's hot.
If your stream is deep enough, go the whole hog and have a swim! Children will find such a setting invigorating. And add flowers. They always work!
6. Streamside Statues
Moss covered statues beside a stream really make impact. Choose statues that call to your artistic desires and let the moss take its time. Statues are durable, valuable and striking. Ceramic, stone, or bronze garden statues are available in all sizes, characters, and shapes.
7. A Stream-Based Outdoor Kitchen
If you host backyard barbecues, you can create the ultimate outdoor entertaining space by having a stream flowing by an outdoor kitchen.
8. Moat
A backyard stream offers soothing sounds, and provides a sense of privacy and seclusion. With a little imagination you can imagine it's a moat and include landscaping details like a bridge or stepping stones across the stream to connect your home with your yard.
9. An Edgy Stream
If you're not able to include a large stream or pond throughout your yard, consider designing a shallow, more controlled, stream to run along the edges instead.
10. A Streamy Spa
Have a stream with an underground pool somewhere along the stream and use the pool like a spa. Place candles around it at night and stargaze with the lap of water around you. What could be more soul enhancing? Place lights and bubblers in the underground pool.
11. A Stream-Themed Outdoor Seating Space
Use outdoor furniture, such as a custom outdoor water table like this succulent water table with a pondless stream from California Waterscapes, to extend living space into the garden.
12. Small Rock Waterfall
If you have levels in your backyard, a small waterfall between the levels, with smooth stones or pebbles for texture, is a great idea.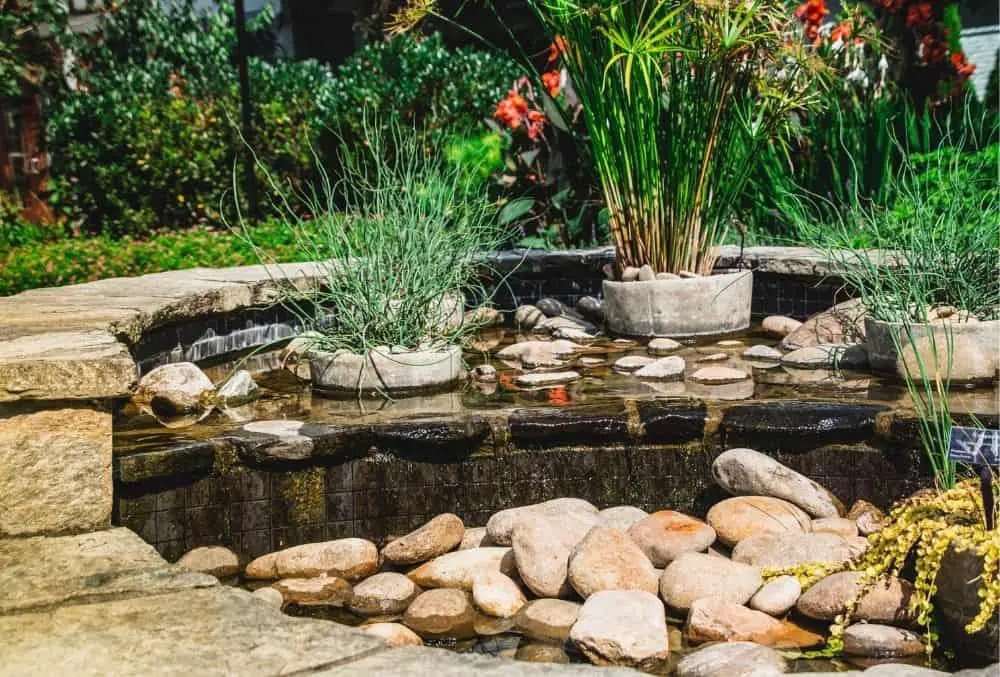 Waterfalls bring movement into your backyard. They are rather like vertical streams. Why not have vertical and horizontal streams for some water geometry! Flowers, succulents, or grasses top it all off.
13. Stream Wishing Well
A DIY wishing well can turn a part of your stream into a wishing well. Encourage the use of small pebbles to make wishes, rather than coins.
14. Streamside Pathway
Pathway designs can include custom details like stepping stones. Use lighting to create a magical pathway.
15. Streamside Birdbath
Birdbaths, especially ones with sculptural design, add glamor. They are affordable, with moderate maintenance costs. Beautify the birdbath with flowers around it.
So, Finally …
Streams provide movement, freshen the air, look divine, enhance the backyard environment, are lovely to dip your fingers or toes in, and are aurally soothing. Have one if you can!