There are few things more enjoyable than a barbeque, enjoying all the pleasures of good food and drink, great company, in gorgeous weather.
It combines a lot of things humans thrive on, social interaction, delicious food, and being outside, and many people pride themselves on the quality of their barbequing skills, and the parties they host.
However, barbequing can be taken to the next level with a properly organized BBQ shack.
These small outbuildings are great because quite often barbeques are rained off or ruined by bad weather, however, a barbeque shack can help keep you grilling even when the elements conspire against you.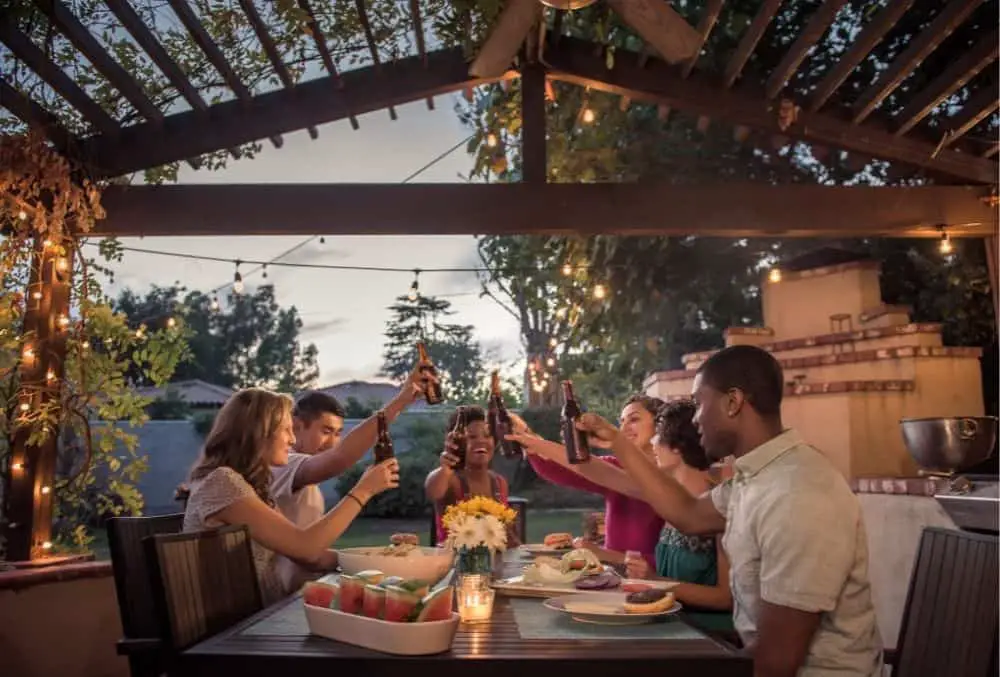 What's more, barbeque shacks can be designed to accommodate a range of different accessories and features, and fit into various types of spaces so that anyone can benefit from the awesome lifestyle benefits they offer.
In this guide, we're going to look at some of the best ideas for barbeque shacks, from the design of the shack itself to ideas for how to incorporate different features that can take your bbq to the next level and make your cooking experience easier, as well as more fun and entertaining for your guests.
Let's take a look at some of these awesome ideas.
1. Grill Station
No barbeque shack can be complete without a proper grill station, ideally one that has plenty of space for handling all kinds of different meats, sauces, and dishes. The beauty of this is that they can come in various shapes and sizes, from large built- in grills to standing grills that can be positioned wherever you need them.
The benefit of a build-in is that it looks awesome and is much more durable and sturdy, while the standing grill can be moved around for your convenience.
The larger your grill station, the more food you'll be able to prepare, meaning you can accommodate more guests and improve the atmosphere of your party, however the larger the grill the more expensive it will be to heat and run, so take this into consideration.
2. Outdoor Fireplace
Another great way to add ambiance and atmosphere to your barbeque shack is to add a fireplace, either as a feature in the dining area or sitting area, or even as an accompaniment to your grilling area to heat sauce or other foods.
The beauty of a fireplace is that it looks amazing and can also be used to make s'mores, what more could you ask for?
3. Outdoor Kitchen Space
One of the difficult things about barbequing is that it can often be difficult to prepare the other foods you need to accompany your meat dishes.
Many people will have to move between their indoor kitchen and grill to be able to prepare the meat as well as get salads, dips, sauces, and other accouterments ready for the overall feast.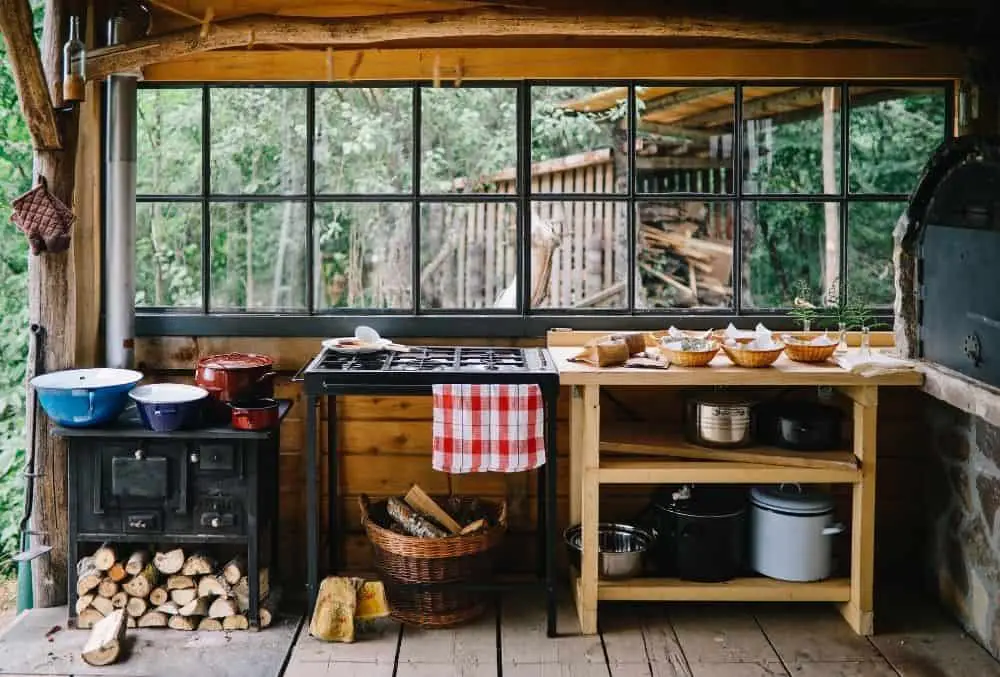 An outdoor kitchen space makes this much easier, allowing you a work surface to prepare these extra side dishes and perform other useful tasks, adding convenience to your grill station and keeping things organized and controlled.
4. Outdoor Pizza Oven
If you want to take your grill shack to the next level, adding in an outdoor pizza oven is an amazing choice, which allows you to make fresh pizza to accompany your barbeque, as well as adding an eye-catching and unique feature to your space.
Pizza ovens can come in various sizes and be built into the working grill area or be a standalone depending on the space you have available and your preferences, but either way, these ovens add even more versatility and value to your barbequing area.
5. Backyard Bar Space
No party is complete without a bar area, and including even a small home bar in your barbeque shack will not only look amazing but make your party much more fun for everyone.
Mixing up cocktails and having a well-organized bar area to do so will definitely make your party really popular, but they also look awesome and are a nice feature that can double as a space to prepare other foods too such as an outdoor breakfast.
6. Dining Area
While the beauty of the barbeque is that you don't need to sit down to eat it, a dining area can make your party a little more sophisticated and sociable, ensuring that there is a central space for friends and family to mingle and relax while enjoying the party and your home to its fullest.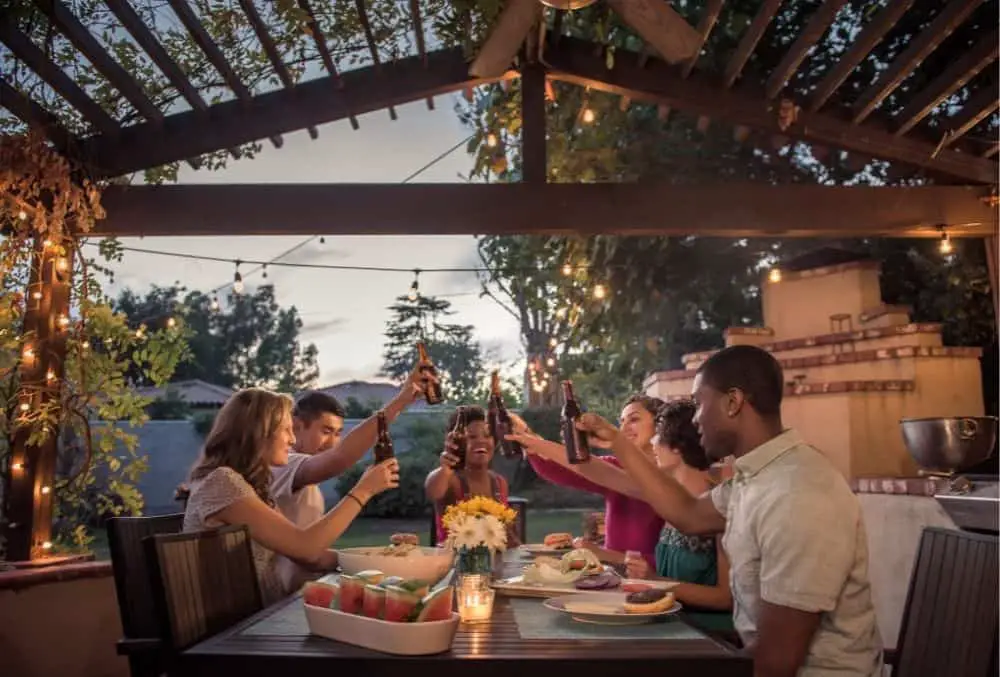 Even a small dining area adds a lot of value and can double as hosting space, as well as ensuring that you can enjoy a barbeque whatever the weather decides to do.
7. Awning Space
If you want to add even more space to your barbeque shack at the flick of a switch, a collapsible awning can be a great addition to your barbeque shack and create even more space to open up your garden to more guests, protecting them from the worst of the rain or shine.
The beauty of these additions is in their flexibility, as they can be folded away when not in use to keep them protected and in good condition.
8. Smoking Shack
If you're a meat lover, including a separate space to keep a smoker is really a great idea that will allow you to smoke your meat safely for several hours without losing the ability to barbeque or host your party. Keeping the smoker separate is also safer for your guests.
9. String Lights
Sting lights or other forms of lighting can bring a lovely coziness to your barbeque shack as the summer night draws in, adding a ton of atmosphere to your space and to the party.
The beauty of these lights is that they are very versatile and can be used to stretch around the whole space or just certain areas, and give off enough light to keep the party going without washing out all the atmosphere of the space.
10. Built-in Speakers
Finally, no party is complete without music, and a barbeque shack with built-in speakers makes it even easier to create the right mood, whether it's something laid back and chilled out or something more upbeat and lively.
A well-made shack will keep your speakers safe from the elements allowing you to enjoy music outdoors without any fear at all, and also offer a better sound quality than wireless BlueTooth speakers.