If you're looking for a way to make your back garden more enjoyable, and already have a fire pit and a barbeque, the next step may be to consider adding a swing to relax and unwind!
While swing sets may seem childish, there are more than one kind of swing, and plenty of adults can enjoy the fun and relaxation a good swing can offer, as long as you find the right design to complement your garden and offer the right amount of comfort.
There are many different types of swing, and some are easier to implement than others, but they all offer an incredible amount of enjoyment. There are few things more relaxing than sitting on a comfy porch swing sipping a nice glass of soda, enjoying your garden in a whole new way.
Alternatively, some people just enjoy the feeling of swinging, and why not, it's an incredibly fun activity, and while it's a great way to keep the kids entertained, there's no reason why adults should have to miss out on the fun either!
In this guide, we're going to look at 10 of the coolest backyard swing ideas to give you some extra inspiration for how to make your garden more interactive either for your children or for fun-loving adults, so we're going to look at swings that offer something for everyone.
We're also going to touch on the benefits and cons of installing a swing set so you know if this is something for you before you invest the time and effort building one up.
The Benefits Of A Backyard Swing
There are many benefits to having a backyard swing, and while not all swings are created equal, or even offer the exact same experience, there are some core benefits that all of them can offer in varying capacities.
Relaxing – There are few things more enjoyable than swinging on a sunny summer's day, whether it's on a relaxing porch swing or a big adult-sized A-frame to transport you back to simpler times!
Fun – Swings are a lot of fun for children and can offer them hours of entertainment right in the safety of their own backyard, but there are also swings to help adults rediscover their playful side too!
Eyecatching – Swings can be a statement piece in your garden, especially porch swings or hammocks, and offer a beautiful way to enjoy your space for you or your guests.
Interactive – It can be so hard to make gardens interactive, but introducing a swing of some sort can really add energy and life to the space and give you a reason to want to get out there and enjoy the yard to the fullest
The Cons Of A Backyard Swing
Requires maintenance – Swings do need to be maintained semi-regularly to ensure that they are safe for people using them
Can be difficult to set up – Some are easier to set up than others, and some people won't have the time or skill to set up a quality swing that is safe and sturdy.
Can be damaged by poor weather conditions – Swings can be vulnerable to a lot of wear and tear, especially in extreme weather conditions.
Backyard Swing Ideas
Now that's all out of the way, let's take a look at some of the best swing ideas that you can use in your own backyard!
1. Classic Porch Swing
For adults, the classic porch swing can be incredibly relaxing and comforting, allowing you to enjoy your garden in almost any weather and in total comfort.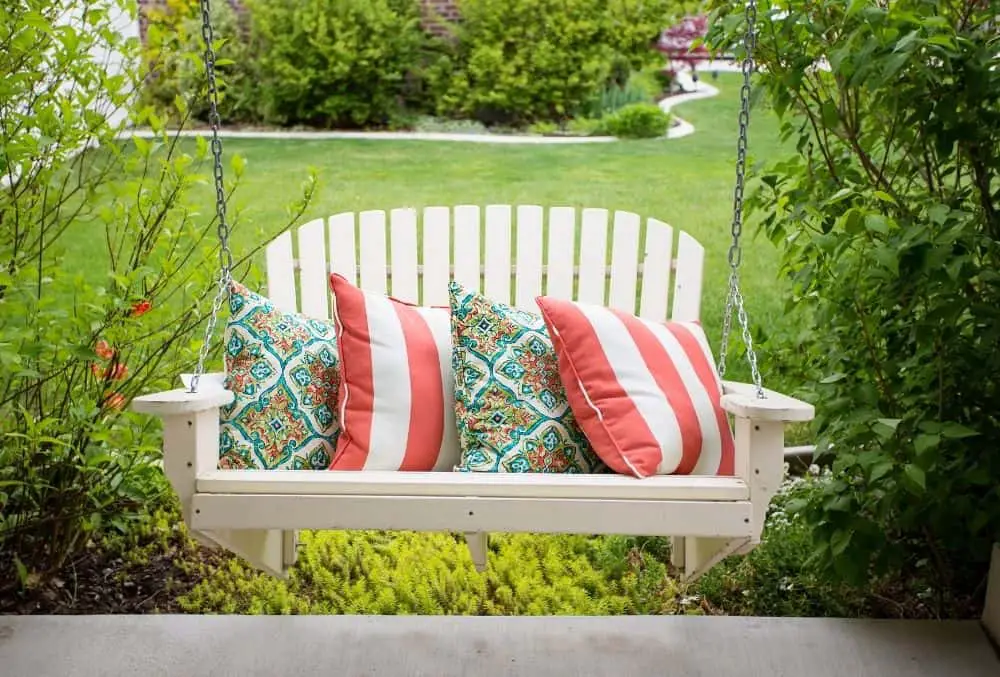 There is something very soothing about being able to swing gently back and forth while sipping a drink and enjoying the outdoors, but these swings also look amazing as a feature or statement piece in your garden, or to fill an awkward space with something beautiful and eye catching.
2. Summer Hammock
While not strictly a swing, hammocks do swing so we're including them. Hammocks are super versatile and can be used by anyone, and are also very easy to set up so they really make a great choice for almost any garden and any age!
3. Tree Swing
When you think of a tree swing you may think of a tire swing, but tree swings can use a range of different styles of swing, from larger bench swings to simple ropes or even a simple stick, making them very easy to set up and cheap, although not always the most comfortable depending on the particular swing you actually go for.
It also requires a pretty sturdy tree to be available in your garden.
4. Tyre Swing
The classic tire swing offers a ton of fun for children in particular and again is very cheap and easy to set up providing you have a sturdy tree to use.
All you need is a rope, a tire, and some knowledge of how to tie a few sturdy knots, and you're in business. There are few better ways to keep the kids occupied for so cheap and so long, so this really is a great choice if you're able to take advantage of it.
5. Platform Swing
Platform swings are all the rage these days, and are a lot of fun for kids or relaxing on as an adult. They are often low to the ground and big enough to lie on, while still offering a lot of space to swing around and have some fun
6. Contemporary Porch Swing
These are much like a classic porch swing but use a design that is a little more modern and means you can use it to complement a modern garden aesthetic or patio space.
7. Pallet Swing
Another cheap and cheerful option, the pallet swing is a little like the platform swing but can also be retrofitted into a smaller standard swing for a tree or a frame set.
8. A-Frame Swing Set
A-frame swings are one of the main designs used in playgrounds across the world, and they are very sturdy, safe, and durable for kids or adults alike, meaning everyone can benefit from the fun they offer. They do take up a lot of space, however.
9. Pergola Swing Set
If you have a pergola that feels a little underused, consider adding a swing underneath it to bring the spot to life and help you enjoy it to the fullest!