Spending time in the backyard is one of life's pleasures. And it's a great place to get creative and design a space that is inviting and enjoyable.
If you love having friends over and basking in the sun over cocktails and BBQs, you may be keen to transform your backyard into a tropical oasis you are proud to show off.
So, how can you do this?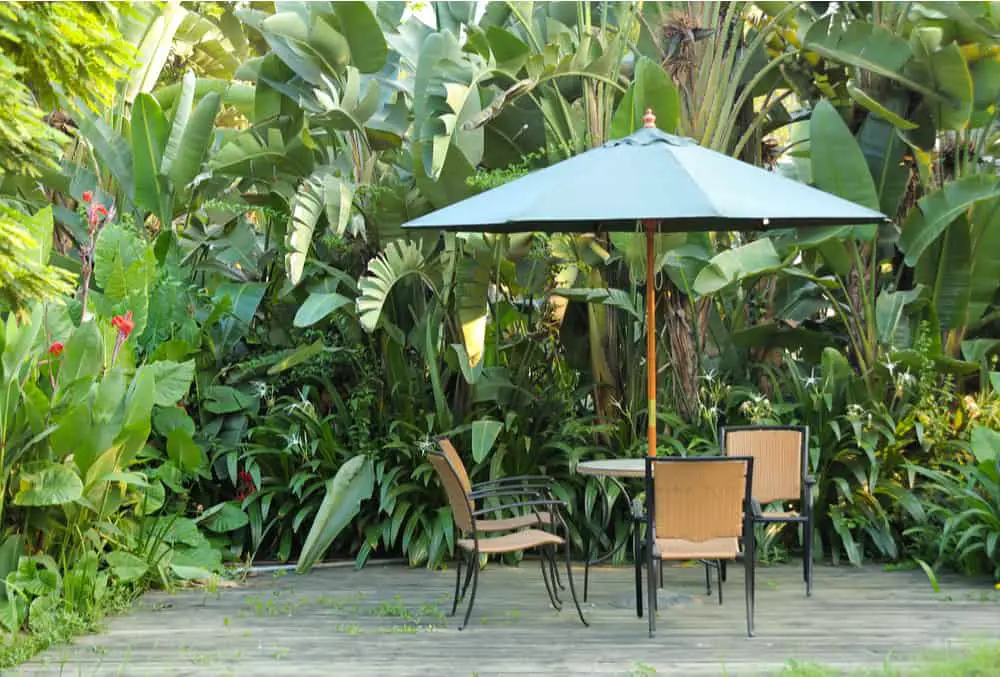 1. Big Plants
For a true tropical vibe, you should invest in big leafy plants. Lush vegetation can turn even the plainest of backyards into a thriving and alive garden that's full of energy. Choose potted and freestanding plants if you have the space. Alternatively, you can choose climbing vines and train them to grow through a trellis.
There are many options for potted plants, but palms seem to work very well in a small space. Palms come in all sorts of varieties such as silver saw palmetto, pygmy date and European fan. They all benefit from large leaves and can make great borders.
It's important to think about positioning when it comes to adding big plants to the outside space. If using traditional tropical plants such as bananas, be sure to place them together in a sheltered spot away from strong winds, as they have a tendency to shred leaves when exposed to the elements.
It also produces a microclimate which helps increase humidity levels, which will keep them moist and avoid scorching the leaves.
2. Water Features
Nothing screams tropical more than a big old water feature. The water feature you choose will be mainly dependent on the size of your backyard. If you have a larger space, you could install a pond and even keep some tropical fish for the ultimate tropical experience.
For smaller spaces, you can choose freestanding circular features that are easy to set up and will make a good complement to big green plants.
The calming trickling sound of a water feature will be reminiscent of rain in the rainforest and create a relaxing space for friends and family or an oasis of calm to enjoy a good book or afternoon snooze. In addition, it will also provide a cool and shady space to reside during hot summer days.
Solar-powered water features are super easy to use and are an eco-friendly option, requiring no electricity and relying wholly on the sun for energy.
Another reason to add a water feature to the garden is that it attracts wildlife. It provides a drink for birds and small animals, and somewhere to breed for amphibians and insects. More wildlife means a more tropical vibe and you could almost feel like you were in the Amazon rainforest (almost!).
3. Misters
A popular addition to a tropical garden is to install misters. A water feature won't directly cool you down, and misters are a good option for keeping cool on intense summer days, as well as providing trees and plants with essential moisture in order to thrive.
Combined with the other features in the garden, you're sure to feel like you're basking in a far away land rather than your own backyard. How do they work?
It's easy to set up a misting system. You need to place several nozzles around the edge of your patio or outside space and connect them together through stainless steel pipes.
A pump (high pressure) is then connected to a water source to increase normal pressure. The water evaporates when it hits the hot air outside, which then produces the fine mist. Perfect!
4. Flowers
Tropical flowers will add some color and vibrancy to your backyard. Special plants such as orchids are beautiful and provide a sweet and fragrant aroma that will fill your tropical space. They can be planted in pots or hung from outside constructions such as pergolas and patio coverings.
Another useful flower is the Arum Lily that produces beautiful white flowers against lush green foliage. The perfect addition to a Mediterranean style backyard.
5. Soft Furnishings
Add some drama and color to the backyard with a tropical style parasol and cushions. Parasols provide much needed shade from intense sunshine and look super beautiful amidst the green plants and flowers. Position it next to the water feature for a truly relaxing space.
Pastel colors are calming and can help the mind to calm down after a busy day. In contrast, vibrant colors such as reds, purples, and pinks are energizing and can help you feel creative and ready to take on the world.
Choose comfortable and unique furniture to place in your tropical backyard. Decorate with comfy cushions and enjoy the ambience.
6. Citrus Trees
Citrus trees are perfect for adding an exotic style to the outside area. You can also bring them into the house during winter, and they can brighten up spaces during the dark days of winter. Citrus trees produce a lovely aroma and look colorful. If you tend to them carefully, you may even get some delicious fruits from them.
7. Structures
Use natural materials for the structures in your backyard, which will add to the jungle theme. Decking and pergolas can be built or bought using rough timbers such as bamboo. Add in bark chippings and slate for a variety of textures.
Pergolas are perfect for creating a tropical feel. They also provide an extra area to train vines and climbers. These are useful even in a small space, as they can build up, giving the illusion of a bigger backyard.
You can place exotic styled furniture on raised decking under the pergola, which provides a wonderful space for dining and entertaining.
8. Lighting
You may not immediately think about adding lighting to the backyard, but placing up lighters under feature plants is a very effective technique and can transform your backyard at night.
You can also add twinkly lights to trees, trellises, and fences. They provide a romantic and pretty backdrop for any backyard. Another trick for continuing the tropical theme is to add Tiki torches into crevices, pathways, and corners. They are usually made from natural bamboo and look super effective at night.
So, there you have it, some ideas to create a tropical garden. You can adapt all the above depending on your budget. Happy designing!