Improving your outside space not only creates a wonderful place to relax, but also adds value to your home.
An attractive backyard is invaluable, and spending time with friends and loved ones can be all the more special when spent in lovely surroundings. So, what original ways can you create the perfect surroundings ?
Cabanas are a great way to add something special to your home, and there are many styles and designs available. Cabanas add a touch of style to the backyard, and you can customize them depending on your specific taste.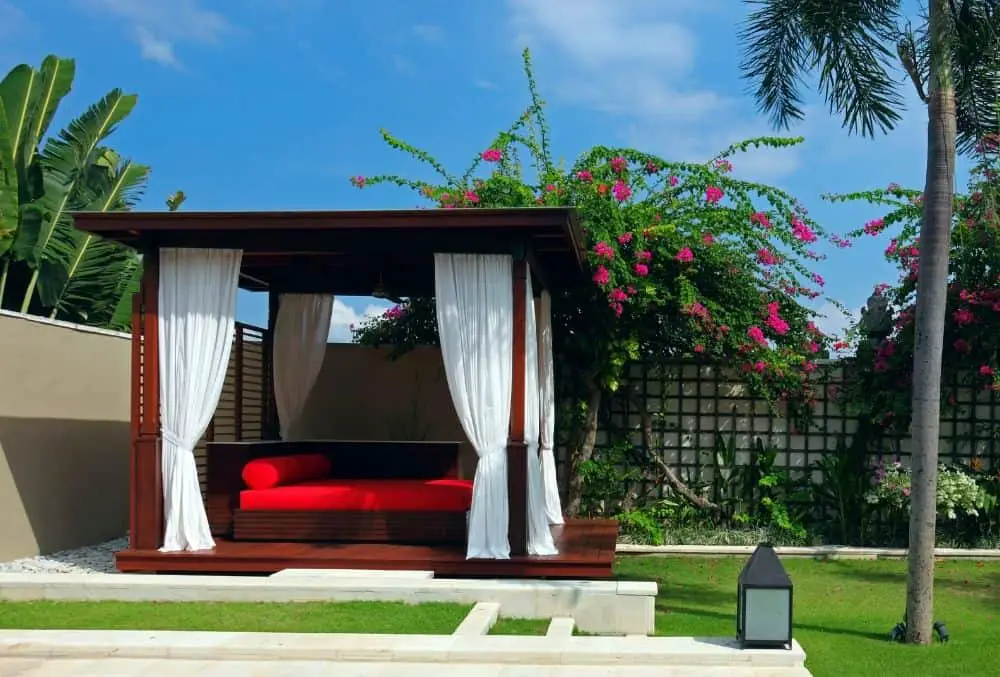 Before choosing your cabana type it's useful to ask yourself some questions about how it will be used, for example, do you plan to have a lot of guests visiting you sometimes, and you want to offer the option to stay over in your home?
Do you want extra space for your pets? Do you need space for gardening or sports equipment? Being clear about your objectives will help you understand and identify which cabana will be right for you.
1. Traditional/Poolside Cabanas
There are several poolside cabana styles you could choose. You could opt for a traditional cabana, which provides shade and the privacy you require after a swim. These cabanas are usually larger, and have windows and walls.
If you're looking for something smaller, a gazebo-style cabana might be more appropriate. Gazebo cabanas have all the features of a traditional cabana but can fit in a tighter spot. Thirdly, you could opt for a semi-open cabana, which usually has three walls along an open fourth side. This is lovely to place poolside as you can go in and out of the cabana and still have a good view of the pool.
Cabanas go really well with pools because they offer a unique, sought-after luxury appearance as well as various other benefits. One big advantage is that most pool house structures include space to get changed after swimming, etc.
You can make a poolside cabana as luxurious and functional as you like. You can add features for entertaining including a pool bar with stools, a fully functioning kitchen, a cozy fireplace, TVs, and projectors. In addition, you can incorporate a lounge area with lots of seating for dinner parties and guests.
Adding a substantial pool house to your garden will increase the value of your homes. Many constructions operate as a separate room, apartment, depending on size.
2. Mediterranean/Tropical Cabana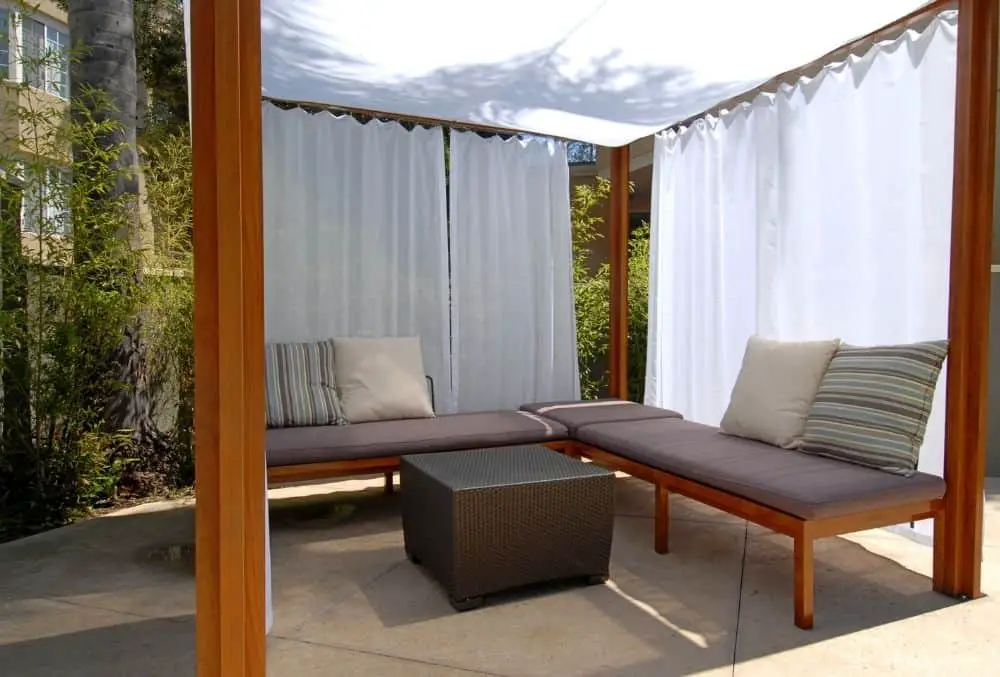 A Mediterranean cabana is open with flowing, light curtains. You can close them which offers shade and privacy, and they can be opened easily to let air flow. The seats in the cabana can be filled with large cushions and floor coverings which give you a cute, comforting feel whether you're spending time in your outdoor space in the day, or chilling at night under the twinkly stars.
You can embrace the tropical feeling by adding outdoor furniture for al fresco dining. Close your eyes and imagine you're somewhere exotic.
3. Tropical Cabana
For a tropical vibe, fill your cabana with bright-colored exotic plants and flowers around the edge and on the roof. You can add a cozy bed and squashy pillows, or push the boat out and add a hammock. Or for pure luxury a combination of both.
To make it feel like a real vacation, grab yourself a cocktail and a good book and relax. Add plenty of colors to add to the tropical atmosphere.
4. Bar Cabana/Sports
Are you a sports fan? Why not invite your friends over for an evening of games? The best cabana option for sport's lovers is a sports bar cabana.
It's constructed similarly as a bar, you then have the option to install a big screen at the front with the bar circling around it. You could also add a grill for the ultimate foodie/ games/ lads night.
You can fill your bar with all your favorite tipples for cocktails, or add beer to a cooler to keep everyone hydrated (or drunk) for the night.
5. Pergolas
Although not strictly a cabana, pergolas are a great design for a corner part of the backyard or smaller area.
They provide flexibility to place in various areas of your backyard.
In addition, they give you privacy, and you can add built-in seating and privacy panels, however it doesn't feel closed in and allows air to circulate, keeping it lovely and cool during hot days.
You can choose to design your own pergola or, depending on budget, get a professional to advise on style and structure. Pergolas are fairly easy to put together, so would make an ideal DIY project for a summer's day.
6. Sunken Floor Cabanas
This type of cabana is totally open and usually placed within the pool area and provides the perfect location to relax in between swimming. The open style also increases ventilation within the cabana.
The sunken floor can be kitted out with cushions, pillows, and cozy lighting that can be placed beneath the seats or around the edge. Furthermore, you can add a fire pit to the center for the ultimate cozy space.
There are a plethora of ideas for sunken floor cavanas online, and you can utilize YouTube videos if you fancy taking on the task yourself. There are thousands of images to look at for inspiration.
7. Elevated Floor Cabanas
Elevated cabana design provides a striking feature to any backyard. Adding a slightly elevated floor provides a feeling of space and enables you to look down on the rest of your garden. Add to the luxury with contemporary seating and classy lighting. The construction is simple; however, It offers shaded lounging from the harsh summer sun.
8. Cabana With A Hammock
This tropical style is created with wood posts and placed poolside. It has a thatched roof and looks stylish with a chilled vibe. Adding a hammock to your cabana is a unique way to provide an extra place in your backyard for relaxing, reading, or having a nap.
Bright-colored pillows will make the space attractive and vibrant, also add other soft furnishings and create a lively, energetic atmosphere.
Adding a cabana to your backyard is a great project and one that can open up lots of entertaining opportunities and extra space to enjoy life. Happy searching.