Having a well-kept and well-designed backyard can make all the difference to your life. It's the difference between having a tranquil space that you want to spend time in to relax or a space that you barely step foot in…
Having a corner-shaped backyard can be awkward to navigate, especially if you have a small or narrow backyard space.
However, turning a bland or awkward space into something beautiful is perfectly achievable whether you have a large or small space or a large or small budget.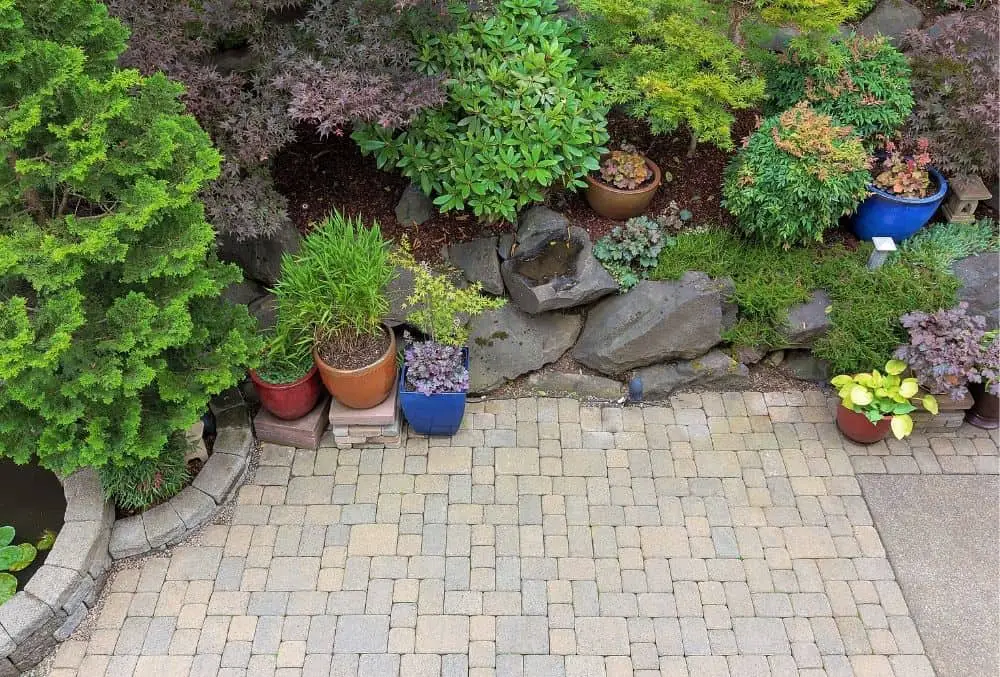 There are nifty tips and tricks that can be implemented to transform your garden's weaknesses into strengths. By the end of the transformation, you'll have a stunning backyard that you won't want to leave!
To give you a helping hand, we've put together a guide of the 5 best landscaping ideas to transform your backyard corner.
Overview
Before getting started, begin by identifying which areas of your backyard you wish to change. Consider the space, light, and foundations. Does your backyard lack character and personality? Does it have a poor layout that looks cramped and cluttered?
Does your backyard offer minimal light and space? Is there a mismatch of foundations with steps or platforms? Whilst all of these features can cause you to have a negative outlook on your backyard, there is plenty that can be done to turn these weaknesses into strengths.
The following will give you the tools and information you need to begin your backyard transformation.
1. Create A Characterful Space
Having a boring or bland backyard space can leave you feeling disheartened. The good news is, having a bland space is essentially a blank canvas for creating an awesome space! Whether you have a small or large backyard, there are a couple of ways you can inject character into your backyard space.
One of the best ways to do this is to make the corner of your backyard into a feature. There are a couple of ways you can do this.
You can add a statement piece such as a sculpture or water fountain. This will create a focal point for the space. Waterfalls are a great way to add depth to a garden without overdoing it.
There are so many different designs to suit your style whether you're looking for something subtle, contemporary, or something bold and eclectic. Whatever you choose to be your feature, whether that be a birdbath or tree, be sure to create a theme in your backyard.
The important point here is to treat your backyard as a completely separate space like you would in your home.
Create a color palette and style throughout by adding flowers and plants around your focal point that contain complementary colors and textures. For instance, a contemporary metal waterfall works brilliantly with bamboo and green foliage as the silver reflects the greenery back into the garden to create a jungle-like space.
2. Create A Clear Space
Having a cluttered backyard space can be distracting to the eye and can effectively create a space that feels dense and unwelcoming. If you have a backyard filled with overgrown plants or rubble and clutter, the first step to reclaiming your garden space is to remove anything that is not needed.
The key part of this transformation is to give your backyard space some TLC and the attention that it deserves. Once you have cleared away all the clutter, you can begin to create a clutter-free and organized space.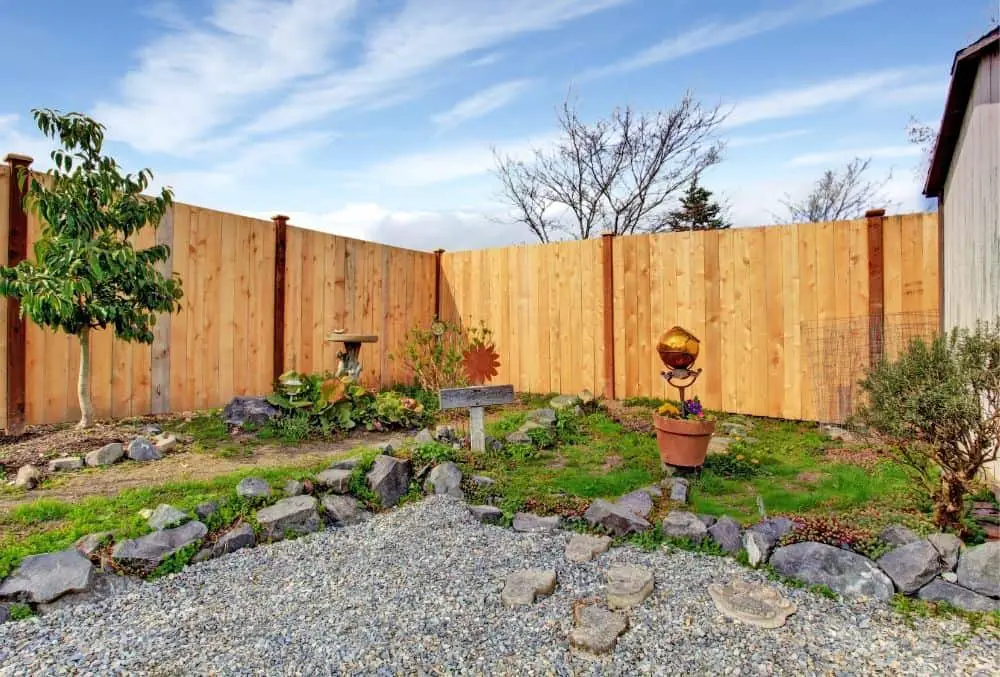 A great way to do this is by implementing a minimalist style. This includes using neutral colors and tones such as earthy, grey, white, and terracotta pots. Keeping everything to a minimum both visually and spatially helps to increase the sense of space.
You can also implement clever storage solutions such as making a feature in the backyard corner that contains hanging baskets for storing gardening equipment, watering cans as well as having a couple of hanging plants dotted around to create a living wall.
3. Create A Tranquil Space
There's nothing better than stepping out into a garden space that instantly calms you by offering a relaxed atmosphere.
Transforming your backyard corner into a tranquil haven can be done by embracing nature by implementing natural materials into your garden space. A great way of creating a tranquil space is by using materials such as natural wood and stone to create the foundations of your garden.
This can be done by adding wooden planters, stone pots, fresh wood chips, or pebbles to the corner of your backyard. These materials blend seamlessly with thick plants and flowers which work to create a unified and light space.
To go the extra mile, add elements of water and fire to really create a space of relaxation. You can do this by adding a water fountain or a fire pit.
Adding a water fountain not only looks amazing but it also sounds beautiful, whilst a fire pit offers warmth and comfort and offers a relaxing crackly sound. Adding these elements works to create a multisensory experience that relaxes the senses.
4. Create A Cozy Space
Transforming your backyard corner into a cozy space requires taking similar steps to create a tranquil space. The use of natural materials creates a light and relaxing atmosphere which provides a tranquil space.
However, to make the space feel cozy as well as relaxing, there are a couple of additional features to add. For creating a cozy space, you'll definitely want to choose fire over water.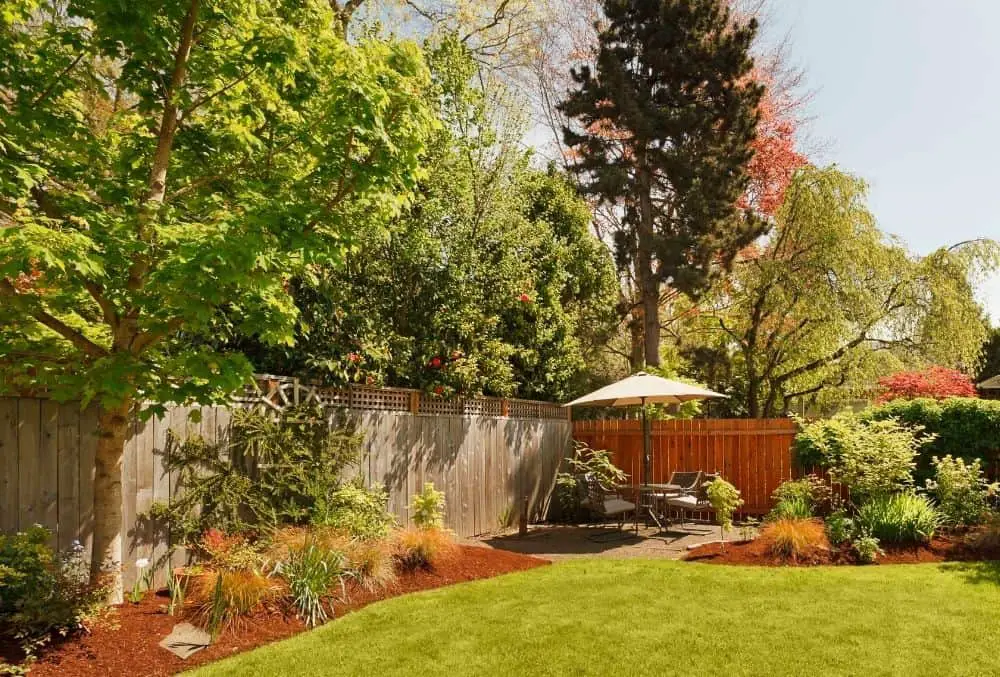 Adding an element of fire will create a warm atmosphere. Adding fire doesn't need to break the bank, you can either add a fire pit which looks great but can be costly. Or, you get creative and create your own fire pit such as creating a pit from an old washing machine drum filled with wood.
For additional comfort, add a cozy seating area with soft furnishings or bean bags. This is great for sitting around the fire. Having a cozy space is equally important at night as it is in the day. To create a cozy space in the evening, implement a bold use of light.
You can do this by adding fairy lights that are wrapped around a fence or plants, adding spotlights to plant pots, or dotting and hanging lanterns around your backyard.
5. Double The Space
Having a small backyard corner space can be difficult to navigate as you can't exactly increase the size of the space (unless you're looking to get planning permission to extend the land). In the case where you're stuck with a small garden, there are a couple of features you can implement which will work to improve the visual appearance of your space.
The best way to do this is by using reflective material. You can apply materials such as metal planters and mirrors which work to reflect light. Increasing the light in your space not only brightens the space but also makes it feel bigger.
Another great way to maximize the space is by using mirrors whether that be on your fence or on a water fountain.
The addition of mirrors can double your space as it increases the level of light in the garden as well as reflects the garden making it feel so much bigger. Adding lights next to reflective planters and mirrors is a great way to maximize the light and space for a dramatic effect.
Takeaway
Creating an awesome backyard corner space need not be difficult. With these nifty landscaping ideas, you'll be able to transform your backyard into the garden of your dreams.
Whether you have a small or large backyard space, these landscaping ideas work to improve the visual and spatial appearance of your backyard space.
Now that you have these ideas at your disposal, it's now down to you to brainstorm to see how you want your garden to look and how you can create an awesome backyard corner.